Renewing Your Drivers Licence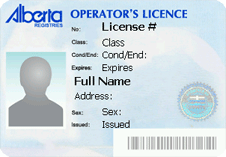 To renew your driver's licence you will need to visit one of our Drayden Registry offices in person. *
When renewing your licence, please be aware that you will be issued a temporary drivers licence, with your official card taking up to 21 days to arrive in the mail, please plan accordingly.
*For special circumstances you may be able to renew online for one year.  Please contact eregistries@drayden.com for more information.
You will need to bring the following document with you:
Please be advised that if your licence has been expired for over 3 years, prior to issuing a reinstatement, you will need to pass the knowledge and road test.  More information can be found on our learners permit test and road test page.
Also, if your licence has been expired for 6 or more months you will need to provide proof of Legal Entitlement and proof of Alberta Residency. Examples of these can be found on our getting your drivers licence page.
If the photo on your licence is more than 4 years old, a new photo will be taken.
While waiting for your new licence to arrive (within 3 weeks of applying) we suggest you carry your passport or another form of photo identification.
For all other inquiries, please use our contact us form or check out our Frequently Asked Questions.