Renewing Your Drivers Licence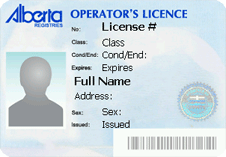 To renew your driver's licence you will need to come down to one of our Registry offices in person.  Please plan to renew your licence prior to the expiry date as it can take up to 21 days for your renewed licence to arrive.  The renewal notice received is not required to renew your licence.
Please also be advised that if your licence has been expired for over 3 years, prior to issuing a reinstatement, you will need to pass the written  learners permit test and road test.  Please also note if the photo on your licence is more that 4 years old, a new photo will be taken.
You will need to bring in the following documents when renewing your drivers licence:
Current Driver's Licence
One other piece of Acceptable I.D.
Renewal Form (optional)
Lost Driver's Licence?
If you happen to loose your licence, please come by our Registry office to apply for a replacement driver's licence.  Please see the Acceptable I.D. list as you will need to have the appropriate authorized identification to prove your identity.
While waiting for your new licence to arrive (within 3 weeks of applying) we suggest you carry your passport or some other form of Photo ID.
For all other inquiries, please use our contact us form or call into one of the Registry locations.